Deputy District Mills (DDJ Mills) once stated to me :-
"I suggest you continue your studies in English Law Mr Watts as you appear to know nothing"
I took on board DDJ Mills patronising advice to a Litigant in Person (LIP) and the Ministry of Injustice was founded.
HHJ Farquhar subsequently similarly encouraged me recently by stating
"You know exactly what to do Mr Watts".
Check out our article on Domain Names and Freedom of Expression !
I strongly believe that the Family Justice system in the UK is unduly secretive, biased, dishonest, corrupt, broken and not fit for purpose.
To criticise the Family Justice system is dangerous as exposing the corruption and inner working of this legal cartel carries the threat of Contempt of Court proceedings.
I will continue my amateur studies in law with the aim to educate the public and bring these "people" to justice and accountable for their actions.
With around 30 Family Court appearances including an appeal that was heard at the High Court. I have a good understanding of how this system works.
In the meantime I suggest you read the article about the highly dubious Sussex Family Justice Board
Rev Dom Watts is the founder of the Ministry of Injustice website which he runs as an individual. He was ordained by the Universal Life Church on the 24th April 2021 and established the Ministry of Injustice Ltd on the 22nd July 2021. Dom has no legal training and is not a lawyer.
Ministry of Injustice Ltd is a dormant company.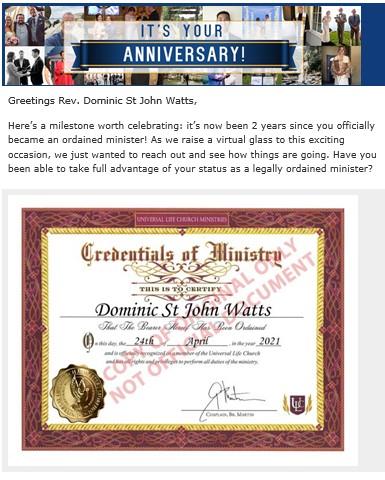 Read our review of Gavin Howe Barrister
Latest Articles
All articles can be found in our Sitemap