Sussex Police serves East and West Sussex and the city of Brighton & Hove which is an area of about 3,780km. A resident population of 1.65m people grows significantly with millions of visitors, holidaymakers, students, seasonal workers and the 46 million passengers who travel annually through Gatwick Airport.
PC Pod: Hub to be used to tackle crime in Crawley
Sussex police officer given final written warning for assault.
For the latest Sussex Police news please see out Police News pages.
Sussex Police officers, staff and volunteers work together to deliver the strategic priorities set within the Sussex Police and Crime Plan and the Sussex Police priorities which are as follows :-
Protect our communities.
Catch criminals.
Deliver an outstanding service.
If you have arrived at the Ministry of Injustice from sussexpolice.uk (a MOI domain) you may well have been looking for sussex.police.uk which is the official website for Sussex Police.
Call 999 if:
a serious offence is in progress or has just been committed
someone is in immediate danger or harm
property is in danger of being damaged
a serious disruption to the public is likely
Call 101 for non-emergency enquiries. You can also Report a Crime Online
You may be interested in our articles It's the Law, What is Policing by Consent ?, Wasting Police Time and the State of Policing Report 2022 and the Loss of Public Trust.
Sussex Cop refuses to stop crime
Sussex Police make national headlines again :-
Fury at Sussex Police as PCSO sat in marked car is filmed REFUSING to attend an assault at a Co-op just 200 yards away because then he'll 'have to deal with it'
'There's a member of the public that's just been assaulted by a 15-year-old girl who's drunk, had a drink thrown in her face, got punched.

'People have called the police, we've come round here and you're sitting here.'

Daily Mail
A Sussex Police Community Support Officer (PCSO) was shown refusing to respond to an alleged assault in a supermarket, in a video posted on TikTok.

The video shows a man telling the officer about a fight in the Co-op store in Lancing which had been reported to the police.

The PCSO said: "I'm not a response unit."

Sussex Police said it had launched an investigation.

The man who was filmed in conversation with the PCSO said members of the public were trying to stop a shoplifter.

He said to the PCSO: "You need to get round to the Co-op. There's just been a fight round there, because people are trying to stop the shoplifter that you're doing nothing about."

He said: "People have called the police and you're sitting here."

The officer responded: "I'm not a response unit unfortunately."

The man said the sight of the police car would "make them scatter".

The officer replied: "Yeah, but then I have to deal with it."

"That's why I'm here and not round there."

In a statement, Sussex Police said: "We are aware of video footage of a single-crewed Police Community Support Officer being approached by a member of the public to report an incident in Lancing.

"The matter was reported to us and a police officer attended the incident as an emergency. The PCSO also then attended the scene."

Supt Nick Dias said: "We are sorry for the clumsy language used by the PCSO in this exchange and acknowledge the public's concern. A police unit was dispatched to the scene as a matter of priority. Our response to this incident is being reviewed."

Katy Bourne, Sussex Police and Crime Commissioner, said she shared "the public's disappointment and understandable concern" with the video.

"A member of the public sent me the video and I immediately shared it with the Chief Constable who referred the incident to the Sussex professional standards department."

She added: "This is not the sort of response that I would expect and the public deserve."

Sussex PCSO filmed refusing to attend assault at shop – BBC News
Footage has captured the moment a driver berates a PCSO for failing to intervene during a shop brawl as he blasts the officer for "cowardice".

Sussex PCSO refuses to intervene – LBC
Concerns about Sussex Police's performance
His Majesty's Inspectorate of Constabulary and Fire & Rescue Services (HMICFRS) published a PEEL inspection of Sussex Police on the 13th April 2023.
The report PEEL 2021/22 – An inspection of Sussex Police graded Sussex Police's performance across nine areas of policing and found the force was 'good' in two areas, 'adequate' in four areas, 'requires improvement' in one area, and 'inadequate' in two areas.
Sussex Police urgently needs to improve how it responds to the public, and how it records crime.

Its recording of reports of violent crime is inadequate, and the force is also missing opportunities to safeguard vulnerable people. It needs to improve the way it assesses initial calls to the force so that vulnerable people and repeat callers are routinely identified.

As a result of my concerns I have already been in contact with the chief constable and the police and crime commissioner.

I am pleased with the way the force has responded so far and I will continue to check the force's progress in addressing areas for improvement in the coming months.

His Majesty's Inspector of Constabulary – Roy Wilsher
Sussex Police unlawfully captured personal data
The Information Commissioner's Office (ICO) has issued a reprimand to both Surrey Police and Sussex Police, following the rollout of an app that recorded phone conversations and unlawfully captured personal data. The ICO applied its revised public sector approach instead of issuing a £1m fine to both Surrey Police and Sussex Police.
Sussex Police and Surrey Police failed to use people's personal data lawfully by recording hundreds of thousands of phone calls without their knowledge. People have the right to expect that when they speak to a police officer, the information they disclose is handled responsibly. We can only estimate the huge amount of personal data collected during these conversations, including highly sensitive information relating to suspected crimes.

The reprimand reflects the use of the ICO's wider powers towards the public sector as large fines could lead to reduced budgets for the provision of vital services. This case highlights why the ICO is pursuing a different approach, as fining Surrey Police and Sussex Police risks impacting the victims of crime in the area once again.

This case should be a lesson learned to any organisation planning to introduce an app, product or service that uses people's personal data. Organisations must consider people's data protection rights and implement data protection principles from the very start.

Stephen Bonner, ICO Deputy Commissioner – Regulatory Supervision
There is an expectation that the Police should uphold the law and act lawfully at all times.
Sussex Police- Independent Office for Police Conduct (IOPC)
The IOPC publish investigations, news releases and anonymised summaries and recommendations about Sussex Police on their website.
Sussex Police defend Transgender Paedophile ?
Sussex Police sparks fury after defending transgender paedophile who sexually abused seven children saying it will not 'tolerate hateful comments about gender'
Sussex Police do not tolerate any hateful comments towards their gender identity regardless of crimes committed. This is irrelevant to the crime that has been committed and investigated.

Sussex Police Twitter 27th September 2022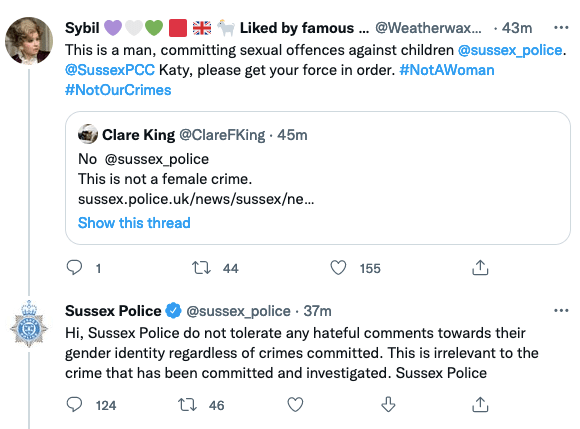 SUSSEX Police have been condemned by the Home Secretary Suella Braverman for "playing identity politics and denying biology".
Suella Braverman KC said Sussex Police should 'focus on catching criminals not policing pronouns' Source: Evening Standard
Home Secretary criticises Sussex force for 'policing pronouns' Source BBC

Sussex Police and Crime Commissioner Priorities
"As your PCC, my job is to hold the Chief Constable of Sussex Police to account and ensure that the police focus on local priorities. I believe every citizen has a right to feel safe on the streets and in their homes.
"In consultation with the Chief Constable and the people of Sussex, I have published a Police & Crime Plan setting out the priorities and local objectives that local people and business say are important to them.
With your support, I am determined that Sussex Police will operate effectively and efficiently and that the values I have embraced during my professional career – hard work, integrity and fairness – underpin everything we do together."
Police typically are responsible for maintaining public order and safety, enforcing the law, and preventing, detecting, and investigating criminal activities.
Sussex Police should concentrate on doing the job that they are paid to do. No wonder the public have no faith in the Police !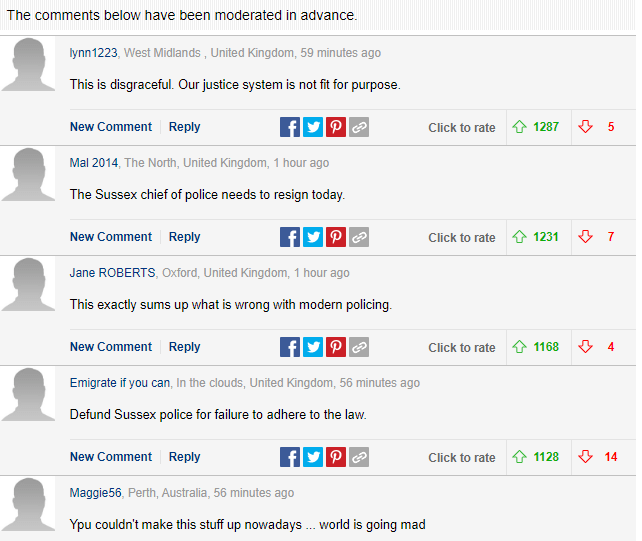 Sussex Police Notable News
One-legged dementia-hit care home resident, 93, who died after being Tasered, hit with baton and pepper sprayed by Sussex police after he 'threatened staff with a knife' – as officers face manslaughter probe
Sussex Police officer is filmed punching man as he restrains him on bus as the man screams, 'You're breaking my hand'
Sussex Police Sergeant 'sent naked selfie to sex assault victim, said he wanted to use handcuffs on her and would have put his hand up her skirt too'
Sussex police sergeant, 53, caught on CCTV kicking vulnerable girl, 13, 'like a football' in custody and asking 'How do you like being kicked?' is spared jail after being found guilty of assault
Sussex police sergeant who kicked a 13-year-old 'like a football' in custody and sprayed a mentally ill man with pepper spray would have been sacked if he hadn't retired, tribunal rules
Judge slams three off-duty police officers for 'deliberate disregard of safety of others' after they were filmed on helmet cam riding their motorbikes at 112mph before crashing into car driven by 80-year-old man
Latest Tweets from Sussex Police
Check out our articles on Policing, Police News, Policing by Consent, Wasting Police Time, Met Police and the highly questionable Sussex Family Justice Board.
We recommend you should always seek formal legal advice if required, from a qualified and reputable lawyer (solicitor or barrister).
We have a number of links to Free Legal Resources and Legal Organisations on our Free Legal Advice , Legal Aid and Pro Bono pages.
Read the reviews of Gavin Howe Barrister
"He is awful, underhanded and should not be practising law!"
Latest Articles
All articles can be found in our Sitemap