Read the latest legal news at the Ministry of Injustice. You may also be interested in the latest Police News.
HMCTS Vulnerability Action Plan
A plan outlining the way courts and tribunals are changing and improving to support vulnerable people to access the justice system.
HM Courts & Tribunals Service 5th December 2023
Investigation launched after family judge attacked in court
His Honour Judge Patrick Perusko, Designated Family Judge for Milton Keynes, was hit with what witnesses report to be a radiator.
The Law Society Gazette 4th December 2023
Lord Chancellor sets out a vision for the future of the civil and family courts and tribunals
Today, with the Lady Chief Justice, Master of the Rolls, President of the Family Division and Senior President of Tribunals, we set out a shared vision for the future – one that brings together the advances we've made over the years for the first time and charts a course for the future.
This will be a Civil and Family Justice and Tribunals system where people will have the option to choose dispute resolution which is online from start to finish – with a seamless transition from one part of the system to the next.
Ministry of Justice and The Rt Hon Alex Chalk KC MP 2nd December 2023
Magistrate's research into defendant leads to formal warning
A magistrate has been given a formal warning for misconduct after he researched a defendant in a case. According to a disciplinary notice, Grant Roberts, sitting in a panel of three, conducted independent internet research to assist him in reaching a decision.
STATEMENT FROM THE JUDICIAL CONDUCT INVESTIGATIONS OFFICE Grant Roberts JP
A JCIO spokesperson said: 'Following an investigation, a conduct panel of the south east region conduct advisory committee found that Mr Roberts' actions had damaged his integrity and standing and that of wider magistracy and therefore amounted to misconduct.
The Law Society Gazette 1st December 2023
Courts can grant injunctions to local authorities to prevent unidentified Travellers from stopping on their land, Supreme Court rules
A ruling from five judges today affirmed the Court of Appeal decision to grant courts the power to hand so-called 'newcomer' injunctions, after a group of 38 councils, including 16 London boroughs, petitioned the High Court to take action against rogue unidentified Traveller groups.
Daily Mail 1st December 2023
French justice minister acquitted in unprecedented conflict of interest case
A special tribunal on Wednesday acquitted French Justice Minister Éric Dupond-Moretti in a conflict of interest in a case that has embarrassed President Emmanuel Macron's government.
He was the first sitting French justice minister to stand trial. He was tried by the Court of Justice of the Republic (CJR), whose sole remit is to judge incumbent or former ministers for offences committed while in office.
France 24 30th November 2023
HMCTS Christmas and New Year courts and tribunals opening times 2023
Our courts and tribunals will temporarily close on various dates over the Christmas period.
The closure dates for this year are:
Monday 25 December 2023
Tuesday 26 December 2023
Wednesday 27 December 2023
Monday 1 January 2024
HM Courts & Tribunals Service 29th November 2023
Improving access to justice across HMCTS
All court users should have equal access to justice using the definition outlined by Dr Natalie Byrom in the publication "Developing the detail: Evaluating the Impact of Court Reform in England and Wales on Access to Justice"
1. Access to the formal legal system
2. Access to an effective hearing
3. Access to a decision in accordance with law and
4. Access to a remedy
HM Courts & Tribunals Service, Ministry of Justice 28th November 2023
Is this Australia's wokest judge?
Queensland Chief Justice Helen Bowskill used a Pride in Law Address last Thursday to point out the subtle way she has put men in their place by altering court forms to list preferred honourifics as 'Ms/Mr' rather than the normal 'Mr/Ms' order.
BBC News 27th November 2023
What good is this grotesque legal circus doing for those who lost loved ones to coronavirus?
Look how the lawyers are disporting themselves at the official inquiry into Britain's handling of the pandemic.
The thing has become a feeding trough for barristers, solicitors and paralegals. It is overseen by a slightly distrait retired judge, Lady Hallett, who perches in a Mastermind-style swivel chair, swathed in a woollen scarf. 'All rise!' cries a flunkey when her ladyship ambles in, and the court stands. Lady Hallett's occasional interventions have not yet been clinching evidence of a squirrel-trap analytical mind.
Daily Mail 25th November 2023
Reasonable for protesters to call Iain Duncan Smith 'Tory scum', court rules
At the High Court, Lord Justice Popplewell and Justice Fordham said no fault in law was made by a senior district judge last November in finding Ruth Wood, 52, and Radical Haslam, 30, not guilty of using threatening, abusive or insulting words or behaviour with intent.
The Guardian 24th November 2023
Lucy Letby public inquiry formally opened by judge
The public inquiry into serial killer Lucy Letby's crimes has formally begun although hearings may not begin until next autumn.
The inquiry will examine how the Neonatal Nurse was able to murder seven babies and try to kill six others.
It will also look at how the NHS handled the case and its response to doctors who raised concerns.
Lady Justice Thirlwall, the senior appeal court judge outlined how she intended to conduct the inquiry and confirmed that work is already being carried out to gather evidence.
BBC News 23rd November 2023
MPs want UK national security law used to vet Barclay family's Telegraph offer
A group of Conservative MPs have written to the government asking it to use the UK's national security laws to investigate the Barclay family's attempt to regain control of the Telegraph newspaper group with funding from Abu Dhabi.
They argued that there is a strong case for close scrutiny by the government under both the Enterprise Act 2002 and the National Security and Investment Act 2021.
The Guardian 22nd November 2023
Post Office's £24m spend on external disclosure lawyers
A freedom of information request from the Gazette to Post Office Limited revealed that the total spend on disclosure costs with external legal contractors from 1 January 2022 to 31 July 2023 was £24.4m
The Law Society Gazette 21st November 2023
High court to consider whether universities owe students legal duty of care
The High Court is to consider for the first time whether universities owe a legal duty of care to their students, which campaigners argue would save lives and bring England and Wales in line with other countries.
The landmark hearing next month comes at a time of widespread concern about declining student mental health and a number of widely reported suicides, including that of Natasha Abrahart, 20, who was a second year physics student at Bristol University when she killed herself in 2018.
The Guardian 20th November 2023
New York judge lifts the gag order that barred Trump from maligning court staff in fraud trial
A gag order that barred Donald Trump from commenting about court personnel after he disparaged a law clerk in his New York civil fraud trial was temporarily lifted Thursday by an appellate judge who raised free speech concerns.
"Considering the constitutional and statutory rights at issue an interim stay is granted," Friedman said, announcing his decision as he scribbled it on a court order.
AP News 17th November 2023
Justice Secretary Slaps Down Lee Anderson Over Call For Government To Break The Law
Justice secretary and Lord Chancellor Alex Chalk made it clear that the government respected the court's ruling.
"Respecting the rule of law means respecting the impartial judgments of our independent courts. Judges apply the law without fear or favour – a longstanding principle of our democratic constitution."
Huffpost 16th November 2023
The Supreme Court of the United Kingdom has unanimously ruled that it is unlawful to send asylum seekers to Rwanda
Lord Reed said the 'legal test' in the case was whether there were 'substantial grounds' for believing that asylum seekers sent to Rwanda would be at 'real risk' of being sent back to the countries they came from where they could face 'ill treatment'.
He said: 'In the light of the evidence which I have summarised, the Court of Appeal concluded that there were such grounds.
'We are unanimously of the view that they were entitled to reach that conclusion. Indeed, having been taken through the evidence ourselves, we agree with their conclusion.'
Daily Mail 15th November 2023
Islamic State death squad suspect jailed for terror offences
Aine Davis, 39, an extremist suspected of being a member of the Islamic State death squad dubbed "the Beatles" was jailed for eight years for terrorist offences.
R -v- Aine Davis – Sentencing remarks of His Honour Judge Mark Lucraft KC
Passing sentence at the Old Bailey in central London, the Recorder of London, Judge Mark Lucraft KC, said: "From the messages and images you sent to your wife it is clear you had been with fighters in Syria and that you were not there for lawful purposes."
Sky News Courts – 15th November 2023
US supreme court announces ethics code amid pressure over gift scandals
The US supreme court has finally responded to mounting pressure over a spate of ethics scandals engulfing some of its senior right wing justices by publishing its first ever code that sets out the "rules and principles that guide the conduct of members of the court".
The 14-page document follows months of increasingly sharp criticism of the justices and their failure to apply to themselves basic ethical rules that bind all other judges in the US.
The Guardian 14th November 2023
UK court rejects appeal over where critically ill baby's treatment ends
The parents of a critically ill British baby girl on Friday lost their legal bid to have her life support removed at home rather than in a hospital or hospice.
"The grounds of appeal are entirely without merit," Lord Justice Peter Jackson said, delivering the ruling.
"Although this is a legal decision, it is taken with a full awareness of the deeply sensitive question that lies at the heart of the proceedings."
Reuters 13th November 2023
Barrister suspended for 'pursuing romantic interest' in defendant
A barrister has been suspended for professional misconduct after he was found to have pursued a romantic interest in a defendant he was prosecuting.
Drew St'Clair, called to the Bar by Middle Temple in July 2001, was suspended from practice for 26 months after the Bar Tribunals and Adjudication Service found he 'violated a clear professional boundary'.
The Law Society Gazette 10th November 2023
Magistrates in England not following law on remand decisions, Justice charity finds
The charity sent observers to 742 magistrates court hearings in England and found that four out of five decisions to remand in custody or impose bail conditions did not reference the relevant law and give full reasons with reference to the facts of the case, as is required under the Bail Act 1976.
The Guardian 9th November 2023
Criminal justice at the heart of the King's Speech
The Kings' Speech will keep violent criminals locked up for longer and put victims front and centre of the criminal justice system. Criminal Justice Bill – Investigatory Powers (Amendment) Bill
Prime Minister's Office, 10 Downing Street and The Rt Hon Rishi Sunak MP 8th November 2023
Donald Trump's lawyer attacks 'unhinged' New York judge in civil fraud trial
Attorney Alina Habba accused Judge Arthur Engoron of being "unhinged" and claimed he slammed a table in court during a civil fraud trial on Monday, 6 November.
Outside the courtroom, the lawyer told reporters Judge Engoron "yelled" at her and told her to "sit down".
The Independent 7th November 2023
High Court Judge denies Italy treatment plan for ill baby
In a written judgment, Mr Justice Peel said there was "no compelling new medical evidence" to justify him revising his decision to allow life-support to be withdrawn.
BBC News 2nd November 2023
Are The Law Commission, Judges, Lawyers, responsible for Post Office Horizon scandal ?
The appropriateness of the current law on the use of computer evidence in court is under the spotlight following Post Office scandal revelations.
Is there a need for change, in the interests of justice?
Computer Weekly 2nd November 2023
Each month, we'll round-up some of the biggest news and achievements in UK justice. Here's October in 40 seconds.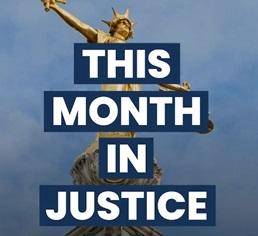 #ThisMonthInJustice #JadesLaw #OnlineSafetyBill
Ministry of Justice 1st November 2023
Court of Appeal quashes murder conviction following 'entirely avoidable' procedural error
In Stuart Layden v R, the lady chief justice and two other judges found, as a result, the Crown court did not have jurisdiction to retry Layden for murder.
The Law Society Gazette 31st October 2023
Barrier to employment lifted for thousands of ex-offenders.
Over 120,000 former offenders will find it easier to get work and turn their lives away from crime following a change in the law.
Custodial sentences of four years or more years for less serious crimes become 'spent' after a seven-year period of rehabilitation, as long as no further offence is committed.
The reforms came into force on Saturday (28 October 2023) under the Police, Crime, Sentencing and Courts Act 2022.
Ministry of Justice, HM Prison and Probation Service, and The Rt Hon Alex Chalk KC MP
Ex-police officer jailed for life R -v- Lewis Edwards
A police officer who blackmailed and threatened underage girls to send him explicit photos of themselves on Snapchat was jailed for at least 12 years.
Sentencing remarks of Her Ladyship the Recorder of Cardiff,
Her Honour Judge Tracey Lloyd-Clarke
Lewis Edwards, 24, groomed more than 200 girls online. He admitted 160 counts of child sexual abuse and blackmail.
Sky News Courts – 27th October 2023
Barrister fee increase to help vulnerable victims bring attackers to justice.
Fees for barristers who help vulnerable witnesses and victims to pre-record a cross examination will rise to £1,000.
The recording takes place as close to the time of the offence as possible, while memories remain fresh, and helps victims avoid the stress of giving evidence in a live trial setting, which many find traumatic.
Ministry of Justice and The Rt Hon Alex Chalk KC MP 26th October 2023
Shamima Begum's British citizenship removal was 'unlawful', Court of Appeal hears.
The decision to remove Shamima Begum's British citizenship was "unlawful", a court has heard, as her latest appeal against the decision begins. At the Court of Appeal, her lawyers began another bid to overturn the decision – which the Home Office is opposing.
Sky News 25th October 2023
Where have all the judges gone? Record number of trials delayed over staffing crisis.
A record number of trials, including for crimes involving rape and violence, have been delayed at the last minute because no judge can be found to hear them.
The Independent 24th October 2023
Trump Shares Post Labeling Judge Who Fined Him A 'Lunatic'.
Donald Trump posted a video of New York Judge Arthur Engoron to his social media platform Truth Social with the caption: "It's scary to think of the amount of power this lunatic currently has."
Forbes 23rd October 2023
Judge tells DWP to release secret universal credit 'vulnerable claimants' report.
The Department for Work and Pensions (DWP) has been told by a tribunal to release a secret, high-level report that is likely to expose the flaws in the support it provides to "vulnerable" claimants of universal credit.
Tribunal judge Stephen Cragg KC, who led the three-person panel, told the DWP there was "a strong public interest" in releasing the PMIU report and a DWP paper on the effectiveness of the support it provides through universal credit.
Disability News Service 20th October 2023
Root out the bad lawyers or you will be fined, says SRA.
The CEO of the SRA has said law firms must learn to self-regulate to avoid potentially huge fines for solicitor misconduct.
The Legal Services Board, the oversight regulator, has already announced plans to review the tools available to the SRA, suggesting that existing penalties 'may be insufficient to deter wilful and serious misconduct'.
The Law Society Gazette 19th October 2023
New appointment to the UK Supreme Court.
The King has approved the appointment of Lady Justice Simler to the Supreme Court of the United Kingdom as a Justice.
Welcoming the announcement, the President of the Supreme Court, The Right Hon The Lord Reed of Allermuir said:
"I am delighted to welcome Lady Justice Simler as a Justice to the Supreme Court."
Prime Minister's Office, 10 Downing Street 18th October 2023
Kenya divided by 'fake' lawyer who kept winning cases.
Brian Mwenda came to national and international prominence last week when it was claimed he had won 26 cases in court despite not being qualified to appear in the High Court.
Mwenda's supporters have held him up as a hero who has exposed flaws in the justice system and represented those who might not otherwise have been able to fight their case.
The Law Society Gazette 17th October 2023
Annual Law Firms' Survey 2022: Agility through turbulent times.
According to a PWC survey, high inflation and an inability to pass the burden on through pricing to clients are among the biggest concerns of the top 100 law firms in the UK as billable hours fall across the board.
PWC 16th October 2023
England and Wales judges told not to jail criminals as prisons full – report.
Judges have been told to delay the sentencing of convicted criminals currently on bail – including rapists and burglars – because prisons are full.
The guidance reportedly came from the senior presiding judge for England and Wales, Lord Justice Edis, on a private call with senior crown court judges.
The Guardian 13th October 2023
Braverman 'photocopying' CV allegation is conduct even law students wouldn't do, says leading barrister.
A best-selling author and legal commentator, The Secret Barrister said "Even as a law student, you are told that to embellish something on a CV is verboten. For a practising barrister to include on a chambers profile something which is not merely an exaggeration but knowing false, is the type of dishonest conduct that should rightly attract the attention of the Bar Standards Board."
The Big Issue 12th October 2023
Diversity of the judiciary: Legal professions, new appointments and current post-holders – 2023 Statistics.
Women constitute 40% of barristers, 53% of solicitors, 77% of Chartered Legal Executives, and 42% of all judges.
In the last decade, the ethnic minority proportion of barristers increased from 13% to 16%, of solicitors from 15% to 19%, of Chartered Legal Executives from 5% to 11%, and from 7% to 11% for all judges……
Ministry of Justice
Home Office lawyers tell Supreme Court there is 'strong public interest' for the Rwanda deportation scheme and there is a 'serious and pressing' need to deter migrants from 'life-threatening' Channel crossings.
A three-day Supreme Court hearing starts this morning with ministers seeking to show the proposed multi-million-pound Rwanda scheme is lawful.
The hearing in the above cases (often called the Rwanda appeals) will take place in the Supreme Court from Monday 9 October to Wednesday 11 October 2023 starting at 10.30am each day. It will take place in Courtroom 1 of the Supreme Court, Parliament Square, London, SW1P 3BD.
It will also be broadcast live on our website: www.supremecourt.uk
Daily Mail 10th October 2023
Foreign prison rental to ensure public protection.
The Justice Secretary Alex Chalk has announced new measures that will allow the government to rent prison cells overseas to ensure dangerous offenders can be locked up for longer.
Ministry of Justice 4th October 2023
High Court Grants Permission For Legal Action Against Home Secretary
The High Court has granted Liberty permission to take legal action against the Home Secretary Suella Braverman for unlawfully introducing new anti-protest legislation which had been democratically rejected by Parliament just a few months earlier.
A cross party parliamentary committee recently said this is the first time a government has sought to makes changes to the law through a statutory instrument which have already been rejected by Parliament when introduced in primary legislation.
Liberty 4th October 2023
Rat infested stinking rubbish is spilling into the street outside Margaret Rule at the University of Portsmouth – Rubbish has now been cleared after they were publicly shamed.
Ministry of Injustice 1st October 2023
The Lord Chief Justice, with the Lord Chancellor's agreement, has issued Lord Justice Clive Lewis with a formal warning for misconduct.
Following an investigation carried out under the Judicial Conduct (Judicial and other office holders) Rules 2014 by a senior judge appointed by the Lord Chief Justice, Lewis LJ was found to have behaved in a rude and hostile manner towards counsel in a hearing. JUDICIAL CONDUCT INVESTIGATIONS OFFICE 29th September 2023
Speculation is growing that Dame Sue Carr, soon to become the most senior judge of England and Wales, will assume the title of Lady Chief Justice.
For the first time in history, the swearing in ceremony of a LCJ will be available to the public to view via a live stream making it accessible to everyone. Law Society Gazette 27th September 2023
Jared O'Mara: Former MP fails in legal bid to appeal fraud sentence.
A former MP who was jailed for fraud has lost a legal bid to challenge his four-year jail sentence. Jared O'Mara was found guilty of six counts of fraud after a trial at Leeds Crown Court in February.
The court heard O'Mara tried to obtain £52,000 of taxpayers' money to fund a cocaine habit by submitting bogus claims for parliamentary expenses. At the Court of Appeal, his application to appeal the jail term was rejected by judges during a short hearing. BBC News 27th September 2023
Media Advisory Notice: Russell Brand.
The Attorney General, the Rt Hon Victoria Prentis KC MP, wishes to amplify the importance of not publishing any material where there is a risk that it could prejudice any potential criminal investigation or prosecutions.
Publishing this material could amount to contempt of court.
Editors, publishers, and social media users should take legal advice to ensure they are in a position to fully comply with the obligations to which they are subject under the common law and Contempt of Court Act 1981. Attorney General's Office 26th September 2023
Rumble defends letting Russell Brand keep advert money and criticises 'disturbing' MP's letter.
"We regard it as deeply inappropriate and dangerous that the UK Parliament would attempt to control who is allowed to speak on our platform or to earn a living from doing so…….We emphatically reject the UK Parliament's demands." The Independent 21st September 2023

Article 10 Human Rights Act 1998
(1) Everyone has the right to freedom of expression. This right shall include freedom to hold opinions and to receive and impart information and ideas without interference by public authority and regardless of frontiers.
Online Safety Bill to become law in crackdown on harmful social media content.
The Online Safety Bill has passed its last parliamentary hurdle in the House of Lords, meaning it will finally become law after years of delay.
The flagship piece of legislation will force social media firms to remove illegal content and protect users, especially children, from material which is legal but harmful. Sky News 20th September 2023
Charity warns Alex Chalk to act over legal aid for immigration and asylum
The availability of legal aid for immigration and asylum in England and Wales is so poor that the Lord Chancellor is in breach of his duty to provide access to justice, according to a letter sent by the Public Law Project (PLP)threatening him with legal action. The Guardian 18th September 2023
'Shock' over rise in defendants appearing solo Chair of the Criminal Bar Association Tana Adkin KC is concerned by the paucity of government information. "When a ministry with justice in its name does not have any clear data on the number of defendants unrepresented in court, it indicates a fundamental failure in the ministry's duty to ensure that the criminal justice system works for everyone — that includes witnesses, victims of crime and defendants," The Times 15th September 2023
The UK's longstanding commitment to the Rule of Law is under grave threat according to the landmark report The State We're In: Addressing Threats & Challenges to the Rule of Law written by the legal charity JUSTICE.
"The backsliding on the rule of law over the last decade has real implications for us all. Protestors could face prosecution, potentially even for something as innocuous as challenging the closure of a library. The ability of people to hold the Government to account when they have been wronged at the hands of the state, has been reduced, while at the same time, the law-making process has become less transparent and less inclusive. Ever more rules and regulations are being imposed without proper democratic oversight from Parliament. Society's most marginalised or vulnerable, such as migrants, prisoners, and victims of police action, lack automatic access to justice and are a bellwether for the human rights reduction we all face." Fiona Rutherford – JUSTICE's Chief Executive 13th September 2023
Israel Supreme Court showdown over controversial judicial reform.
All 15 Supreme Court judges are convening for the first time to hear petitions against a legal amendment that limits their own powers. In July, the nationalist-religious governing coalition led by Prime Minister Benjamin Netanyahu pushed through an important change as part of its radical judicial overhaul.
It cancelled the ability of all courts to block government actions and appointments using the legal standard that they were "unreasonable. BBC News 12th September 2023
Justice secretary Alex Chalk made a statement in the House of Commons to explain how the terror suspect escaped. "Ex-soldier Daniel Abed Khalife is believed to have made his getaway from Wandsworth prison while dressed as a chef – prompting a manhunt as UK airports step up security measures." Parliament 7th September 2023
Laughing gas to be outlawed as nitrous oxide categorised as class C drug. "Nitrous oxide to become an illegal Class C substance by the end of the year. We are cleaning up our streets and tackling anti-social behaviour. Those in unlawful possession could face up to two years in prison or an unlimited fine." Home Office 5th September 2023
Police officers to face quicker sackings for gross misconduct in England and Wales. "The change follows high-profile cases of officers committing rape and murder.
The Police Federation, which represents rank and file officers, called the changes "a return to kangaroo courts". – Daily Mail 31st August 2023
UK Ministry of Justice found tracking journalists who make information requests A Times investigation revealed on Saturday that the Ministry of Justice has been tracking journalists who make information requests. In the UK, the right to request and access recorded information held by public authorities is protected under the Freedom of Information Act 2000 (FOIA) and Freedom of Information (Scotland) Act. By law, UK public authorities must respond to any requests for information. The report details evidence that there is an apparent delay of the release of data 'until clearance is given by political appointees'. – Jurist 28th August 2023
Neonatal Nurse Lucy Letby, 33, was convicted by a jury of murdering seven babies and trying to kill six more while working at the Countess of Chester Hospital neonatal unit between 2015 and 2016. R -v- Letby sentencing remarks of The Honourable Mr Justice Goss Kt – Judiciary website 21st August 2023.
Banks warned on branch closures as access to cash to be 'protected in law' "The legal framework showed that no person or business should be further than three miles away from facilities to withdraw or deposit cash including a cash machine, otherwise known as an ATM." – Sky News 17th August 2023
Afghan relocation 'should recognise rule-of-law upholders' "People who uphold the rule of law should be covered by the government's Afghan relocation scheme, a legal thinktank has said in a report published on the second anniversary of the fall of Kabul." – The Law Society Gazette 16th August 2023
What is racketeering? Trump charged with mafia-busting law in Georgia "The indictment alleges that rather than abide by Georgia's legal process for election challenges, the defendants engaged in a criminal, racketeering enterprise to overturn Georgia's presidential election results," – BBC News 15th August 2023
The Post Office scandal is possibly the largest miscarriage of justice in UK history – and it's not over yet – theconversation.com 9th August 2023
HMCTS monthly bulletin – August 2023 HM Courts & Tribunals Service
Drivers could be set for MILLIONS in fine refunds after landmark penalty charge ruling
A panel of lawyers found that Transport for London "broke the law" by using CCTV rather than traffic wardens to fine drivers. The Sun 6th August 2023
Legal News at the Ministry of Injustice
We recommend you should always seek formal legal advice if required, from a qualified and reputable lawyer (solicitor or barrister).
We have a number of links to Free Legal Resources and Legal Organisations on our Free Legal Advice, Legal Aid and Pro Bono pages.
Check out our articles on Sussex Police, Met Police, The Rule of Law, What is Policing by Consent, HHJ Farquhar, HHJ Bedford and the highly questionable Sussex Family Justice Board.
Read the reviews of Gavin Howe Barrister
"He is awful, underhanded and should not be practising law!"
Latest Articles
All articles can be found in our Sitemap or Legal Blog pages.