Read the latest police news at the Ministry of Injustice.
Policing by consent is a fundamental principle that underpins modern democratic societies. It is a concept rooted in the belief that the authority of the police derives from the consent and cooperation of the public they serve, as opposed to the power of the state.
State of Policing Report 2022 and the Loss of Public Trust
It is critically important the public know that when a crime has happened the police will consider all reasonable lines of enquiry and, where appropriate, arrest the person responsible.

Chief Constable Andy Marsh – College of Policing CEO
Sussex PCSO sacked for inappropriate relationships
A police community support officer (PCSO) who formed inappropriate relationships with a man and a boy has been dismissed for gross misconduct. The Independent Office for Police Conduct (IOPC) said it referred the case to the Crown Prosecution Service in October 2021 but it did not bring charges.
BBC News 5th December 2023
University Hospitals Sussex Police Investigation
Sussex Police are investigating 105 allegations of alleged medical negligence. Four whistle blowers at University Hospitals Sussex told the BBC that patients had died unnecessarily while others were "effectively maimed". The whistle blowers complained of a "Mafia-like" management culture.
BBC News 4th December 2023
West Midlands Police Special Measures
HMIC has placed West Midlands Police in "Engage", also known as special measures, after an inspection.
West Midlands Police joins four other forces also in special measures, including the country's biggest, the Metropolitan Police.
HMICFRS 3rd December 2023
Sussex Police probe mystery surveillance craft sent from Kremlin-owned country manor that keep locals in three villages under regular watch
The unmanned aerial vehicles fly over the villages of Flimwell, Ticehurst and Wadhurst in East Sussex for up to four hours every evening.
Sussex Police has confirmed it is investigating the origin of the flying objects and officers have visited and spoken to the occupants of the embassy building.
Daily Mail 2nd December 2023
Met Police warns people to be vigilant before Christmas
The head of the Metropolitan Police's counter-terrorism unit is urging people to be vigilant while out in London ahead of Christmas.
Cdr Dominic Murphy told BBC London there was no evidence of a specific threat, but said officers were in a "heightened state of readiness".
BBC News 1st December 2023
Gloucester Police officer charged with driving force vehicles while disqualified
PC Miles Caffull, a response officer in Gloucester, allegedly drove a police car after he was disqualified from driving, Gloucestershire Police said
Gloucester Live 30th November 2023
Charity head condemns Met police chief's 'inflammatory' comments on armed officers
The head of a charity that supports the loved ones of those killed by police has condemned Sir Mark Rowley's comments on armed officers as "inflammatory, dehumanising and dangerous".
Britain's most senior police officer told the Sun newspaper on Monday that marksmen would rather face terrorists than gangland criminals because there would be less of a legal backlash.
Independent 29th November 2023
Met officer Tasered girl, 10, twice over garden shears threat, hearing told
PC Jonathan Broadhead of the Met Police fired his Taser at the girl twice within "approximately eight seconds" of entering her home in south-west London on 21 January 2021.
He is accused of using force "which was not necessary, reasonable and proportionate" against the girl.
BBC News 28th November 2023
Met Police leaflet warns against language that breaks law
The force will hand out leaflets at Saturday's march in central London warning against using words or images "likely to land you in jail".
It is the first time the Met Police has tried to give clarity on what language is unacceptable.
BBC News 27th November 2023
Court ordeal of armed officer ends with not guilty verdict
Almost four years on from the terrorist attack in Streatham High Street, an armed officer who rushed to the scene to save lives has been found not guilty of dangerous driving.
"If an officer makes honest mistakes under the most immense pressure while rushing to a live terrorist incident it cannot be right this is dealt with by a criminal trial nearly four years later. That's why the treatment of this brave officer by the systems of accountability is appalling." said the Metropolitan Police Commissioner Sir Mark Rowley.
Met Police 25th November 2023
Merseyside Police accused of 'trivialising' poverty with social media post
A police social media post highlighting the theft of a sandwich made "a spectacle of someone's desperation", a poverty charity has said.
Merseyside Police posted on X, formally known as Twitter, they had apprehended someone for stealing a "delicious warm chicken baguette".
The post was viewed more than 60,000 times before eventually being deleted.
BBC News 24th November 2023
North Yorkshire Police issue warning after stopping car with dirty number plate
Police have warned drivers they could be fined up to £1,000 if they allow their registration plates to become covered in dirt.
The warning, from North Yorkshire Police, comes after officers stopped a car with a "totally invisible" number plate.
"It's not [the] crime of the century, I agree. And before anyone says it, yes, we do have better things to do!
ITVX News 23rd November 2023
Review into Nicola Bulley investigation published
The College of Policing were commissioned by Lancashire's Police and Crime Commissioner (PCC) Andrew Snowden to conduct an independent review into the investigation of reported missing person Nicola Bulley in February 2023.
There were many findings including :-
Despite being lawful, the release of personal details regarding Nicola was avoidable and unnecessary.
The relationship between the police and mainstream media needs to be rebuilt.
College of Policing 22nd November 2023
Police 'enabling dangerous officers' with high rate of complaint failures in England and Wales
Campaigners are calling for the police to be stopped from "marking their own homework", after the Observer found 40% of internal investigations by forces into serious complaints were overturned following independent reviews.
The Guardian 21st November 2023
Man in critical condition after being hit by Greater Manchester Police car in Rochdale
A man has been left in a critical condition after being hit by a police car as it chased another vehicle.
Greater Manchester Police (GMP) say officers had been involved in a "short police pursuit" with a driver who failed to stop in Rochdale when the incident happened.
ITV News 20th November 2023
Kent Police solves 'unacceptably low' number of crimes, inspectors find
The number of crimes solved by Kent Police is "unacceptably low", according to a report by inspectors.
The force was told by His Majesty's Inspectorate of Constabulary (HMIC) that it must improve at investigating crime and responding to the public.
BBC News 17th November 2023
Protesters climb on war memorial but Met Police says no laws were broken
The Metropolitan Police said no laws were broken when pro-Palestinian protesters climbed on a war memorial in London.
Protesters climbed on the Royal Artillery Memorial at Hyde Park Corner after a demonstration outside the Houses of Parliament on Wednesday evening.
How about Section 5 of the Public Order Act ?
Telegraph 16th November 2023
Stephen Lawrence police officer was 'corrupt', secret Met Police report found
A senior officer involved in the Stephen Lawrence murder case was corrupt, a newly uncovered Met Police report concluded.
Ray Adams, a commander at the time of the 1993 racist killing was bent and an earlier investigation against him was manipulated by an informant, the secret Line of Duty-style investigation found.
Mirror 15th November 2023
Killed officer was let down by Met, partner says
The partner of a police sergeant killed in a custody cell has said he was let down by the "shoddy and inadequate" performance of the Metropolitan Police.
Sgt Matiu Ratana, known as Matt, was murdered in September 2020 after officers failed to find a gun concealed on arrested man Louis De Zoysa.
BBC News 14th November 2023
Met appeals for help identifying protesters holding 'hate crime' placards during pro-Palestinian march
Hundreds of thousands of people took part in a march in the capital on Saturday, calling for a ceasefire in Israel's war against Palestinian militant group Hamas. While the protest was largely peaceful, more than 100 arrests were made and far-right counter-protesters clashed with police.
Sky News 13th November 2023
Police Use of Face Recognition Is Sweeping the UK
police forces across England and Wales are being told to rapidly expand their use of the highly controversial technology, which globally has led to false arrests, misidentifications, and lives derailed. Police have been told to double their use of face searches against databases by early next year—45 million passport photos could be opened up to searches.
Wired 10th November 2023
Braverman accuses Met Police of bias over Gaza marches
Home Secretary Suella Braverman has accused the Metropolitan Police of "playing favourites" over its handling of pro-Palestinian protests.
Shadow home secretary Yvette Cooper described it as a "dangerous attempt to undermine respect for police", while London mayor Sadiq Khan said it was "irresponsible".
BBC News 9th November 2023
Met police detective who sent racist messages allowed to keep her job
Detective Sergeant Victoria Teagle a Metropolitan Police detective who was found guilty of sending racist messages via WhatsApp has been allowed to keep her job. DS Teagle was found guilty of gross misconduct by a disciplinary panel, and has received a final written warning, which will last three years.
The Guardian 8th November 2023
Police chide bystanders who simply watched as man struggled in the River Ouse in North Yorkshire
Crowds gathered on Ouse Bridge in York, according to North Yorkshire Police, but no one tried to save the man.
It prompted police to remind the public to not "just stand there videoing it on your mobile phone".
Sky News 7th November 2023
Tory security minister asks police to stop any pro-Palestine protest on Remembrance Sunday
Rishi Sunak's security minister has asked the Metropolitan Police and Mayor of London's office to halt any pro-Palestine protests taking place in central London on Remembrance Sunday.
Tom Tugendhat has said the idea of a demonstration on 12 November would not be "acceptable" and was "a matter of great concern to me".
The Independent 2nd November 2023
Police officer fired for gross misconduct
PC Alex Marshall of Devon and Cornwall Police has been sacked for gross misconduct after a disciplinary hearing. It was alleged that the police officer was dishonest in giving an update over the police radio that he had viewed CCTV and so investigated an allegation made to him, when in fact he had not done so.
Devon Live 2nd November 2023
Met Police commander Julian Bennett sacked for failing to provide a sample for drug test
Mark Ley-Morgan KC, representing the Metropolitan Police, said it would have smacked of "organised corruption at the highest level" and compromised her integrity if Mr Bennett had been allowed to resign on the spot.
Sky News 1st November 2023
Met response to anonymity decision on firearms officer
The Recorder of London His Honour Judge Lucraft KC, who is overseeing the upcoming trial of the firearms officer known as NX121 for the indictment of murder of Chris Kaba, has ruled that on 30 January 2024 anonymity will be partially lifted, resulting in the name and date of birth of officer NX121 being in the public domain.
Met Police 31st October 2023
PC Pod: Hub to be used to tackle crime in Crawley
Sussex Police's latest initiative to tackle crime and disorder in Crawley.
The innovative structure, which is comparable in size to a modest garden shed, was officially unveiled in the High Street, Crawley on Monday morning (30 October).
Sussex Police 30th October 2023
Training offered to police dealing with journalists reporting at protests.
In November 2022, an LBC radio journalist and two others were wrongfully arrested as they tried to report on a Just Stop Oil protest.
A taskforce will be created to share information on protecting editorial staff, while an online tool will provide a portal to report any abuse or safety issues.
Police staff will also be offered training around public order laws to help them understand how journalists can report on and observe protests.
The Standard 30th October 2023
Police officers sacked over athlete search gross misconduct.
Two Met Police officers have been sacked after carrying out a stop-and-search of two athletes which was found to have amounted to gross misconduct.
PC Jonathan Clapham and PC Sam Franks – lied about smelling cannabis in Mr Dos Santos' car and so had breached professional standards of police behaviour in relation to honesty and integrity.
BBC News 27th October 2023
Police officer from Parliament protection unit tests positive for cocaine at work.
A Metropolitan police officer from the unit that protects government ministers has tested positive for cocaine at work.
Parliamentary and Diplomatic Protection Service (PaDP) is the largest armed police unit in the UK. Its officers protect the Palace of Westminster, government ministers and provide advice on threat levels.
The Standard 26th October 2023
Police officer 'under investigation' after pepper spray incident.
West Yorkshire Police officer called a 'lesbian nana' under investigation over pepper spray incident.
It is believed that the officer, branded "out of control" by commenters, is the same person who was accused of overreacting by arresting an autistic teenager earlier this year.
Should this Police Officer be made to read the West Yorkshire Police PAVA irritant spray policy document before being allowed to assault the public again ?
According to the official West Yorkshire Police X account "A referral has been made to the Professional Standards Directorate"
The Independent 25th October 2023
Thirty West Midlands Police buildings to close amid 'significant cost pressures'
Police and Crime Commissioner Simon Foster said 'expensive and under-used sites' would be sold or have their leases left to expire. The changes are set to support a new West Midlands Police "neighbourhood policing operating model".
Birmingham Live 24th October 2023
Suella Braverman to challenge Met Police chief over handling of protesters chanting 'jihad'.
The Metropolitan Police has said no offences were identified when a protester at a pro-Palestine rally in London was filmed chanting "jihad, jihad".
Home Secretary Suella Braverman will tell Sir Mark Rowley later "there can be no place for incitement to hatred or violence" on UK streets and police should "crack down on anyone breaking the law".
Sky News 23rd October 2023
Crime in England and Wales: year ending June 2023.
The ONS have published a report on crime against households and people aged 16 years and over, using data from police recorded crime and the Crime Survey for England and Wales (CSEW).
Office for National Statistics 20th October 2023
Met Police officers face gross misconduct investigation over handling of allegations against rapist.
Five serving Metropolitan Police officers are under investigation for gross misconduct over the handling of allegations against serial rapist David Carrick.
Carrick, 48, a firearms officer with the Met's Parliamentary and Diplomatic Protection Command, was jailed for at least 30 years in February 2023 after he was unmasked as one of Britain's worst ever sex offenders.
Sky News 19th October 2023
Frail widower, 87, slams police after six officers raided his home, bundled him in a van kept him in a cell for 15 hours after wrongly accusing him of murdering his wife – who he had only just learned had passed away.
He complained to the Independent Office for Police Conduct and Greater Manchester Police did send a letter apologising for their conduct.
Daily Mail 18th October 2023
Northamptonshire Police Chief Constable Nick Adderley is being criminally investigated over allegations he "potentially misrepresented his military service".
He has been suspended while the Independent Office For Police Conduct (IOPC) investigates the accusations into what it describes as "potential misrepresentation of his military service".
Sky News 17th October 2023
Police refuse to identity officer accused of shoplifting.
An officer from Thames Valley Police has been caught apparently shoplifting. But his or her identity is being protected – and the officer is not facing prosecution. Defendants, including shoplifters, are routinely named, in accordance with the open justice principle.
But the Chief constable Jason Hogg, has imposed reporting restrictions at the forthcoming hearing forbidding the media from identifying his officer, who stands to be dismissed if the allegations are found proved.
Newbury Today 16th October 2023
Met Police: Communities traumatised by stop and search.
It follows a highly critical review of the Met Police by Baroness Casey in March, which called for a "fundamental reset" of stop and search, saying black Londoners were at least three and a half times more likely to be stopped than white Londoners, and that black Londoners were "over-policed and under-protected".
BBC News 13th October 2023
Counter Terrorism Policing issues appeal for information following attacks in Israel.
Officers from the Met's Counter Terrorism Command are appealing for anyone in the UK who has direct evidence related to the terrorist attacks in southern Israel to contact police.
Met Police News 12th October 2023
New Police Scotland chief agrees force is institutionally racist.
Police Scotland's new chief constable says she agrees that the force is guilty of institutional discrimination.
In her first day in the job, Jo Farrell backed the controversial statement made earlier this year by her predecessor Sir Iain Livingstone.
BBC News 11th October 2023
Senior female armed police officer who was made to strip to her underwear and told 'just because you have tits does not mean you can't do a press-up' wins sex discrimination case.
A senior female firearms officer has won a sex discrimination and harassment case against West Midlands Police after being stripped down to her underwear during a police training course.
The 40-year-old said she had been left feeling 'extremely uncomfortable' by her male colleagues who also drew male genitalia on notice boards around the station.
Daily Mail 10th October 2023
Police take no action against Rishi Sunak following complaint over Nicola Sturgeon conference joke. An investigation into whether Prime Minister Rishi Sunak may have committed contempt of court by mentioning Scotland's former first minister, who is subject to a live police investigation.
Sky News 6th October 2023
A man has been jailed for offences including treason after he was arrested at Windsor Castle.
Jaswant Singh Chail, 21 (17.01.02), from Southampton, was arrested by officers within the Windsor Castle footprint on 25 December 2021.
He was carrying a loaded crossbow, and wearing black clothing and a metal mask when he told officers he was there to kill Her late Majesty Queen Elizabeth II, who was in a private residence on the castle's grounds at the time.
Met Police 5th October 2023
Thames Valley Police Officer 8744 from Witney Police Station caught throwing rubbish from a Police Car contrary to Section 87 of the Environmental Protection Act 1990.

The BlackBelt Barrister published a video in response Police Littering; Will he pay the £100 fine?
CHIEF CON-STABLE Police chief faces 'Walter Mitty' probe after being pictured wearing Falklands medal despite being 15 at time of war.
Nick Adderley, 57, faces allegations he is a fantasist after repeatedly sporting the South Atlantic Medal. Nick Adderley who is Northamptonshire Police's top cop is accused of 'stolen valour'.
The Sun 29th September 2023
Police officers widely misusing body-worn cameras.
Police officers are switching off their body-worn cameras when force is used, as well as deleting footage and sharing videos on WhatsApp.
Watch the video The Issue – Bodycam Cops Uncovered.
BBC News 28th September 2023
Britain's 'soft justice': Shoplifters, drug users and even sex offenders given a 'slap on the wrist' for nearly a MILLION crimes.
Sex offenders, shoplifters and drug users were among almost a million crooks given just a 'slap on the wrist' for a shocking array of crimes…..Intended for low-level crimes, community resolutions are out-of-court agreements that don't give the offender a criminal record or show up on a DBS check. Daily Mail 25th September 2023
Sussex police officer given final written warning for assault.
A police officer accepted allegations of misconduct against him after an investigation found he had assaulted a female colleague. Whilst the criminal investigation did not result in a prosecution, the force's Professional Standards Department then progressed a misconduct investigation and referred the matter to a hearing. The actions of this officer in this case fell far short of the standards we expect, which is reflected in the findings by the panel.
More than 1,000 Metropolitan Police officers are currently suspended or on restricted duties, the force has said, as it tries to root out rogue officers.
The Met Police's Stuart Cundy said the number of affected officers was almost the size of a small police force, with one in 34 suspended or restricted. He warned that removing all corrupt officers could take years. BBC News 19th September 2023
Met police pays damages to women arrested at Sarah Everard vigil.
Scotland Yard has apologised and paid "substantial damages" to two women arrested during the vigil for Sarah Everard, in a major climbdown following years of legal battles over the policing of the event.
In a move that the new Metropolitan police commissioner, Mark Rowley, will hope draws a line under one of the darkest periods of the Met's recent history, the force acknowledged that it was "understandable" that Patsy Stevenson and Dania Al-Obeid had wanted to attend a candlelit vigil at Clapham Common because they felt women had been "badly let down". The Guardian 14th September 2023
Picture-postcard villages are being plagued by burglars and shoplifters that the police (Hampshire Constabulary) refuse to investigate, so residents are taking the law into their own hands. "Instead of calling the police, they've set up Facebook and WhatsApp groups to catch Lyndhurst's bad guys." Daily Mail 11th September 2023
Police officers to face quicker sackings for gross misconduct in England and Wales. "The change follows high-profile cases of officers committing rape and murder.
The Police Federation, which represents rank and file officers, called the changes "a return to kangaroo courts". – Daily Mail 31st August 2023
The College of Policing have published improved investigations guidance for police officers and staff, to support consistent and effective investigating.

It instructs police to follow all reasonable lines of enquiry when investigating an offence and explains what the public can expect from police when they report a crime

"It is critically important the public know that when a crime has happened the police will consider all reasonable lines of enquiry and, where appropriate, arrest the person responsible." Chief Constable Andy Marsh – College of Policing CEO

New guidelines on Conducting effective investigations
Updated APP on Managing effective investigations and Investigation process to complement the new guidelines.
College of Policing 28th August 2023
Norfolk and Suffolk Police data breach: Data of victims and witnesses included in FOI responses "Norfolk and Suffolk constabularies said a "technical issue" led to raw data being included within files produced in response to Freedom of Information (FOI) requests about crime statistics." – Sky News 15th August 2023
Moment seven West Yorkshire Police officers drag 'autistic' girl, 16, kicking and screaming from Leeds home for committing a 'hate crime' after she told female cop 'you look like my lesbian nana' The mother repeats 'she's autistic', to which the officer responds 'I don't care'.- Daily Mail 10th August 2023 (West Yorkshire Police)
Northern Ireland police data breach: PSNI officers left 'incredibly vulnerable' due to human error "The Police Service of Northern Ireland (PSNI) has apologised for the self-inflicted security breach after it inadvertently published the information in response to a Freedom of Information (FOI) request on Tuesday." – Sky News 9th august 2023
Crawley Police patrolling in the rain, stop on double yellow lines to take a photo for Facebook – Crawley Police Facebook 8th August 2023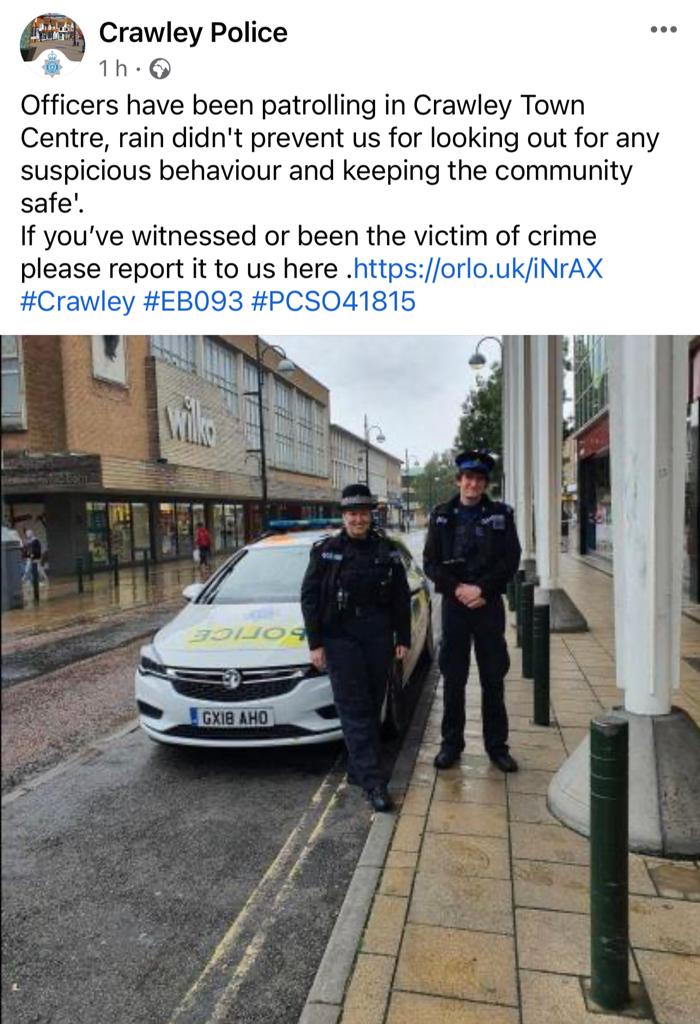 The Highway Code states that traffic laws apply to everyone, even police cars. The police are only allowed to stop on double yellows if they are dealing with a motorist or attending an emergency.
Three Met Police officers to face misconduct hearings after death of Kevin Clarke who said 'I can't breathe' as he was restrained – My London 6th August 2023
Officers guard Rishi Sunak's £2m mansion amid fury as Greenpeace mob who sat on roof are bailed by 'soft' police after just 18 hours – as activists admit 'We knocked to make sure nobody was home' – Daily Mail 4th August 2023
Met Police sergeant jailed for sexually assaulting woman in the sea at Brighton on his stag do would have been dismissed if he'd not already resigned, Scotland Yard reveals – Daily Mail 4th August 2023

The activists, who arrived at 6am – two hours before police were alerted just after 8am, clambered on the Prime Minister's £2million mansion in Richmond, North Yorkshire, while he spends ten days in the US with his wife and two daughters. – Daily Mail 3rd August 2023
Tighter direction for use of police cautions unveiled
Stricter rules to govern how police use cautions will ensure they should only be used for minor, first-time offences under a new code of practice. – Ministry of Justice 2nd August 2023
Scotland Yard commander who wrote Met's anti-drugs strategy took LSD and magic mushrooms while off duty and smoked cannabis before breakfast, tribunal hears – Daily Mail 31st July 2023
Police News at the Ministry of Injustice
You may also be interested in the latest Legal News.
We recommend you should always seek formal legal advice if required, from a qualified and reputable lawyer (solicitor or barrister).
We have a number of links to Free Legal Resources and Legal Organisations on our Free Legal Advice, Legal Aid and Pro Bono pages.
Check out our articles on Sussex Police, Met Police, The Rule of Law, What is Policing by Consent, HHJ Farquhar, HHJ Bedford and the highly questionable Sussex Family Justice Board.
Read the reviews of Gavin Howe Barrister
"He is awful, underhanded and should not be practising law!"
Latest Articles
All articles can be found in our Sitemap or Legal Blog pages.