His Majesty's Courts and Tribunals Service (HMCTS) is an executive agency of the UK government, operating under the Ministry of Justice (MoJ).
The Lord Chancellor, The Rt Hon Dominic Raab MP, heads the Ministry of Justice as the Secretary of State for Justice. See our article Can the Lord Chancellor and Secretary of State for Justice be a bully* ?
HMCTS Complaints Procedure
You might want to make a complaint to HMCTS. The HMCTS complaint process looks at how your case was handled by their staff.
HMCTS are not able to change the decision in your case or investigate how a judge or magistrate acted towards you.
HMCTS uses the Opinions, Praise, Treatment, Incident and Complaints system (OPTIC) which is the HMCTS feedback database/system used to record all customer feedback.
To complain about the HMCTS:
speak to a member of staff in their buildings who will record your feedback
contact the courts or tribunals by email, phone or in writing
If you remain unsatisfied at the end of the complaints process, you can also ask your member of Parliament to refer your case to the Parliamentary and Health Service Ombudsman.
HMCTS ignore complaints
I raised an online complaint with HMCTS about the shambolic Brighton Family Court and Sussex Family Team on the 16th January 2023 some 55 working days ago (correct as 31st March 2023).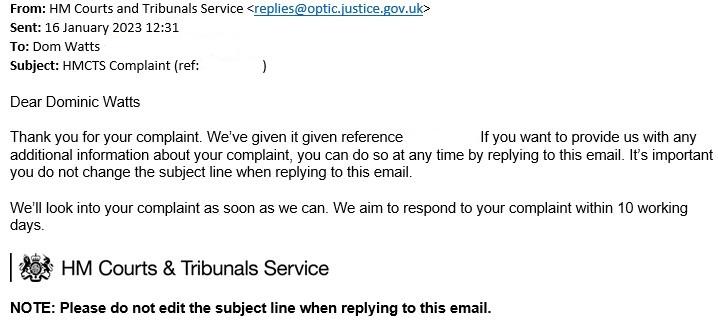 I have previously attempted to raise a complaint with Sussex Family Court (in person, by phone, by email) but no one wants to communicate or accept any responsibility.
Sussex Family Court and its staff fail to communicate, list hearings, process applications, deal with complaints and struggle with basic administration. A senior judge told me they are short staffed and are "doing their best".
This court and its staff are clearly "interfering with the smooth administration of justice" and are not fit for purpose.
HMCTS are in effect in contempt of court by their actions/inactions.
HMCTS claim to respond within 10 working days.
There has been absolutely no response despite having chased them 3 times with emails to replies@optic.justice.gov.uk. Either my complaint is lost, I am being deliberately being ignored or they are still busy coming up with excuses ?
There are no published phone numbers for HMCTS and the only email addresses listed are replies@optic.justice.gov.uk or data.compliance@justice.gov.uk.
There is no way I can see of contacting HMCTS.
On the 22nd March 2023 in utter desperation I sent the following to the Ministry of Justice (MoJ) Data protection Officer (DPO).
Dear MoJ DPO

https://complain-about-a-court-or-tribunal.form.service.justice.gov.uk/privacy

Do you have any contact details for the Complaints or "HMCTS optic" team ? I cannot find an email address or telephone number for the complaints team.

I am concerned that they are either deliberately ignoring me or my personal data has fallen into a "worm hole".

I would therefore also like to make a SAR. I assume this can be done by email to you instead of by post to Disclosure Team which seems an antiquated approach.

Your help would be much appreciated.

Email to MoJ DPO data.compliance@justice.gov.uk / dpo@justice.gov.uk
HMCTS OPTIC Privacy Policy
The HMCTS OPTIC Privacy Policy clearly states that the data protection officer can be contacted at data.compliance@justice.gov.uk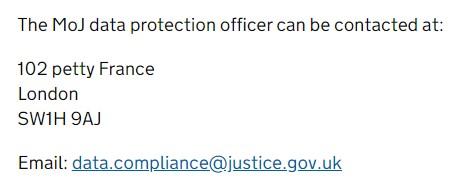 This is incorrect as emails to that address are undelivered. That email address does not exist.

The Information Commissioner's Office (ICO) entry for Z5679958 lists the DPO as dpo@justice.gov.uk.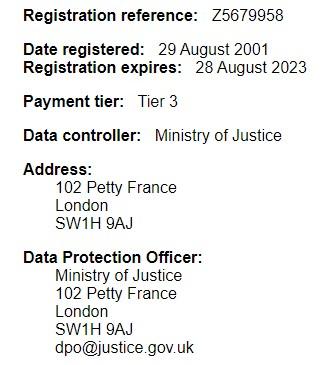 Is this an innocent mistake or further evidence of institutional incompetence ?
To be really "petty", Petty should have a capital P as well. Hopefully they will update their website.
The MoJ's DPO has a duty under GDPR to publish accurate information.
The requirement to send a Subject Access Request (SAR) to a postal address is also dubious and unnecessary as an email should suffice.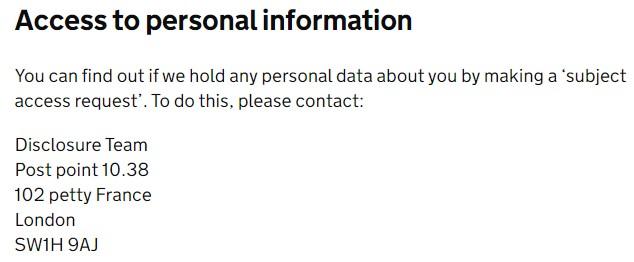 Update 24th March 2023 : The MoJ Data Access Team data.access@justice.gov.uk have responded acknowledging the SAR. It seems, as suspected, you can apply by email and save a stamp.
However, they haven't updated their email template and still refer to Her Majesty's Prison and Probation Service and Her Majesty's Court and Tribunal Service.
What an insult to his majesty the King. I have asked them to update this.
Dear Mr Watts

SUBJECT: Subject Access Request

Thank you for your email below in which you asked for information from the Ministry of Justice (MoJ).

Your request has been handled in line with the General Data Protection Regulation (GDPR) and the Data Protection Act (DPA) 2018 as a Subject Access Request (SAR) for your personal information.

In order for us to process your request we require acceptable proof of your identity.

Copies of two types of proof of identity. These can be a copy of a recent utility bill (dated within the last three months) and a copy of the photograph page of your passport or driving licence.

Search Location/Clarification

The MoJ is a large department with many functions and it will greatly assist us in providing you with the exact information you require if you are able to:

Specify the information or processing activities your request relates to
Provide more details that will help us locate the requested information; such as the context in which your information may have been processed and the likely dates when processing occurred

For your information, in the context of SARs, the MoJ consists of:-

Her Majesty's Prison and Probation Service
Her Majesty's Court and Tribunal Service
The Office of the Public Guardian,
The Legal Aid Agency, and
A large MoJ "HQ"

On receipt of acceptable proof of I.D. we will continue to process your request.

Yours sincerely

Disclosure Team

Disclosure & Library Team,
Information Services Division
Security and Information Group

MoJ Disclosure Team 24th March 2023
I still await a response from the MoJ to resolve my complaint along with a detailed explanation for the inexcusable HMCTS tardiness.
In the meantime check out our article on the highly questionable Sussex Family Justice Board.
Who are HMCTS ?
His Majesty's Courts and Tribunals Service (HMCTS) is an executive agency of the UK government, operating under the Ministry of Justice. It is responsible for administering the court system in England and Wales, providing support to the courts, tribunals, and other judicial bodies to ensure their effective and efficient operation.
The history of HMCTS reflects a drive to improve the efficiency and effectiveness of the justice system, through the merger of the Court Service and the Tribunals Service in 2011. This created a more streamlined and efficient system that is better equipped to meet the needs of the public, under the oversight of the Ministry of Justice.
The annual budget of HMCTS is significant, reflecting the importance of the services it provides to the public. In 2021/22, the agency's budget was £1.8 billion, which was a decrease from the previous year's budget of £1.9 billion. The reduction in funding was due to the impact of the COVID-19 pandemic, which forced the agency to scale back some of its activities.
HMCTS is one of the largest employers in the UK justice system, with a workforce of around 28,000 staff. The agency employs a diverse range of people, including court staff, judges, legal advisers, and administrative staff, overseen by the Ministry of Justice.
Read our review of Gavin Howe Barrister
Latest Articles
All articles can be found in our Sitemap